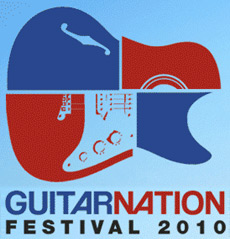 Maybe someone will be in the area for this event, or better yet maybe someone will stop by and get Steve Vai's autograph for me
Tickets On Sale Now! Steve at Guitar Nation Festival, London 8-9 May 2010.
Guitar Nation is a two day music festival of performances, demonstrations, seminars and cutting edge debates for guitarists and musicians serious about music. It brings together the people who make the industry happen; world class musicians, band managers, top producers, media professionals, music industry guru's and many more. Guitar Nation will get musicians closer to music and its industry than ever before. A broad variety of master classes, tutorials, seminars, performances and forums are planned, covering a wide range of hard hitting topics in a fun, innovative and creative environment.
Steve Vai will be presenting a master class focusing on creativity and what you need to know to move yourself forward and reach that higher plain as a musician.
Tickets are on sale now! Don't miss out! http://www.guitarnation2010.com/
Please note: Steve Vai will be conducting a master class only, and will not be performing at this event.