Source >> http://politiken.dk/ibyen/musik/article1076119.ece
!translated from Danish to English!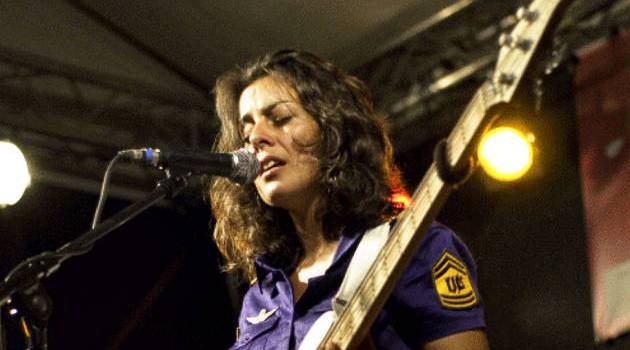 She is named Ida, and she is funky – they have been aware of play points in Århus and the surrounding area for years. Now is also very ' the one and only ' been enthusiastic about Ida Kirstine Nielsen.
Even so violently that the Prince has incorporated the Danish bassist for his band, which later this month begin a lengthy European tour, which among other things would lead poptroldmanden from Minneapolis and his giant Orchestra for Herning and Copenhagen.
It was a happy, but also very taciturn Ida Barry Nielsen, who yesterday could confirm its new cooperation with the small-sized American who as late as the summer's Roskilde Festival down in a concert that still is talked about among those who were there.
Bassida and funkhouser
Since the surprising news of the almost unknown Danish bassist and one of the world's biggest popnavne was out, Politiken, among other things, would like to hear whether Bassida, Ida Barry Nielsen's flittigst took the stage name, also was among the audience to Princes summer triumph at the agricultural fair square.
READ ALSOPrince to hire Danish bassist
"If you knew how many have sounded today – but I have told them all that I do not give any interviews, before the tour started," said a scratchy mobile phone. But it managed to lure so much out of Ida Funkhouser, who the funky århus woman also calls itself that her involvement with the Prince and his people have been doing the last one and a half month's time.
Over the weekend turned the Ida Kirstine Nielsen home to Aarhus after a longer stay in Minneapolis, where she has practiced with the rest of the large ensemble that will supply the raw material on the upcoming tour.
Order of examination papers
Although the Prince could hardly have asked to see the output certificate, it is a bassist with the examination papers in order, he has been in the shed. 35-year-old Ida Kirstine Nielsen is trained from the Jutland Academy of music in Århus.
However, it has not prevented bassist originally from Randers rain, in obtaining street cred a show and a reputation as an independent and creative musician, having concluded in countless contexts of Arhus music værtshuse, not least the eponymous Synthesised Eskil.
READ ALSOPrince gives two concerts in Denmark
Bassida was until a few years ago one of the driving forces in århus band Indigo Sun, she has appeared on other local album projects, one of the most recent being saxophonist Jakob Elvstrøms album ' Saxclub '. She has also appeared on a tour in Asia with popgruppen Michael Learns To Rock.
Test musician for lydfirma
Ida Kirstine Nielsen has in recent years been a part of the large Belgian world music-ensemble Zap Mama, headed by the Belgian African phenomenon Marie Daulne. A commitment that has led her into the month-long tours around the world.
Bassida uses also forstærkerne TC Electronic RH450 with two RS210 enclosures. When we can reproduce so nørdet an indication of the degree of precision is due to the fact that Ida Kirstine Nielsen in recent years has been diligently used as test musician of the Arhus lydfirma TC Electronics.
She has, together with the company participated in numerous music fairs around Europe. And in fact it is the commitment that, until the current with the Prince, has been the greatest virtuoso bassists claim to fame.After Bassidas appearances along with TC Electronics rose visits on her MySpace profile: considerably. Today's date has more than 100,000 basinteresserede mentioned and see the videos, which Bassidas games trakteres through speakers from TC Electronics.
Stevie Wonder and Gnarls Barkly
Friends and colleagues in the Arhus music environment denotes Ida Kirstine Nielsen as an outward-looking, fast-learning and socially based musician who jumped into the wildest jam and projects, as long as it just was funky.
In recent years, she has, however, focused very little on his own solo project, where she herself both rapper, singing and trakterer bass. Two years ago she released under the name Ida Funkhauser album ' Marmalade '. The album also involved musicians from Zap Mama and the Danish rapper Negash Ali.
READ ALSOStevie Wonder delighted in Aalborg DH
Ida Funkhauser was quite far forward with the recording of their next album, when the Prince and his band at the end of august intervened in the calendar. Several of his friends and acquaintances, Politiken spoke to yesterday, booklets also names as a serious and alert on the talented bassist. Ida Kirstine Nielsen is not, however, more modest than that she is on the network avails itself of this opportunity to boast that she has jammet with Stevie Wonder and Silo from the American Group Gnarls Barkly.
Feel at home
A foromtale of a concert in Aarhus, Denmark earlier this year with a band, which took as its starting point the Ida Funkhausers ' Marmelade'-album, describes the music as ' 1970s funk with a dispute of the soul with catchy melodies and beautiful ballads – and lots of bass '.
But hey!It is not more or less what we in a hurry would be able to say about it for years as celebrated Prince Rogers Nelson from Minneapolis?
Admittedly, the girl from Århus on the way out in the big world of one of music history's largest. But at the same time it also sounds as if she purely musical has been a place where she feels at home.
What we are looking forward to learn more about when Bassida together with Prince has begun on the European tour. For such an interview she promised us therefore. She did that.