Maceo Musicology Webcast #26 - Assorted Pop
This collection of music was initially assembled as a summer playlist webcast, but was then put aside. But given the record breaking heatwave here in the UK, I had to pull it back out and add a few tracks. Some of the tracks are NPG Vandal remixes - 6 Day Riot and Lisa Lindley-Jones - and were sent to me by Maxim; others such as The London Souls and Marques Toliver I read about first, checked them out and wanted to share; the rest various friends have turned me onto at various times, most recently the lovely Andy Allo track via Maxim (again!). Also, borrowing from the example set by Ymaginatif, I wanted to feature a bit more of the ladies than some of the recent webcasts have allowed.
Wishing you some sunshine while listening to it.
For Maxim and Ymaginatif. Thanks fellas
Enjoy
Tracklist
1. 31 Today - Aimee Man
2. Maybe - 6 Day Riot
3. Lime Green Sweater - Negro Problem
4. Is It Too Late - World Party
5. Road to Nowhere - Lisa Lindley-Jones
6. Cellophane - Amanda Ghost
7. Red Red Red - Fiona Apple
8. Why Don't You Call Me - Macy Gray
9. Red Headed Woman - The London Souls
10. You Don't Love Me The Same - Jesse Johnson
11. Come Home to Me - Andy Allo
12. Anywhere On This Road - Lhasi De Sela
13. Lovejoy - Livin' Out Loud
14. Stoned Pt 2 - Lewis Taylor
15. White Sails (demo) - Marques Toliver
http://www.mediafire.com/?ma8lmz7tbvl1hdl
Coming Soon - the Return of the Triple Threat Webcast Series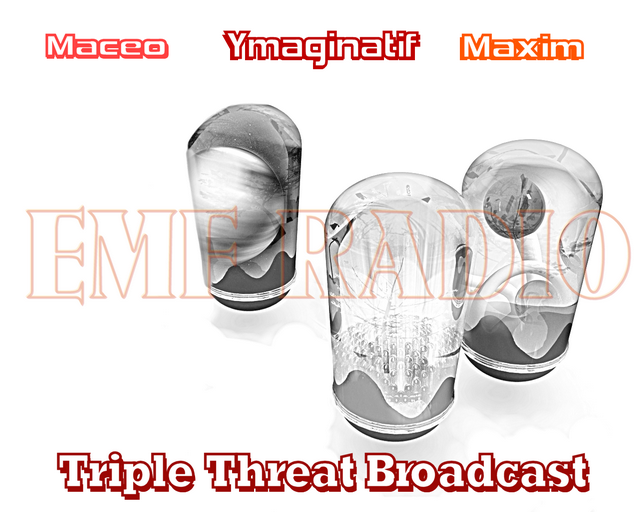 Mace2theO, Ymaginatif and Maxim's Triple Threat Broadcast series will be coming for your ears!